OUR MISSION
The mission of the IATA is to improve the quality of healthcare in the State of Illinois through the advancement, promotion, and improvement of the athletic training profession for practicing Athletic Trainers in all settings, and to be proactive in creating effective partnerships in our communities, as well as among those interested in athletic training as a career. In addition, IATA provides a means for a free exchange of ideas for the Illinois athletic training field.
---
---
The Committee on Practice Advancement invites you to their Third Party Reimbursement Initiative Bootcamp! This is a virtual and in-person event designed to give attendees the tools they need to pursue third party reimbursement in their own practice. From the NATA website, "In 2021, the TPRI team launched Third Party Reimbursement Boot Camps for members specifically to work with state leaders to educate and further advocate for AT reimbursement. This new benefit for members not only impacts their own practice, but increases professional recognition nationally as well." COPA is excited to bring this initiative to Illinois, this coming February. All IATA members are eligible to attend this event, and we encourage you to check out the speakers and agenda below. If you have any questions or would like to register for this event, please contact COPA Chair Mark Colston at mcolston@fsmail.bradley.edu. We look forward to seeing you there!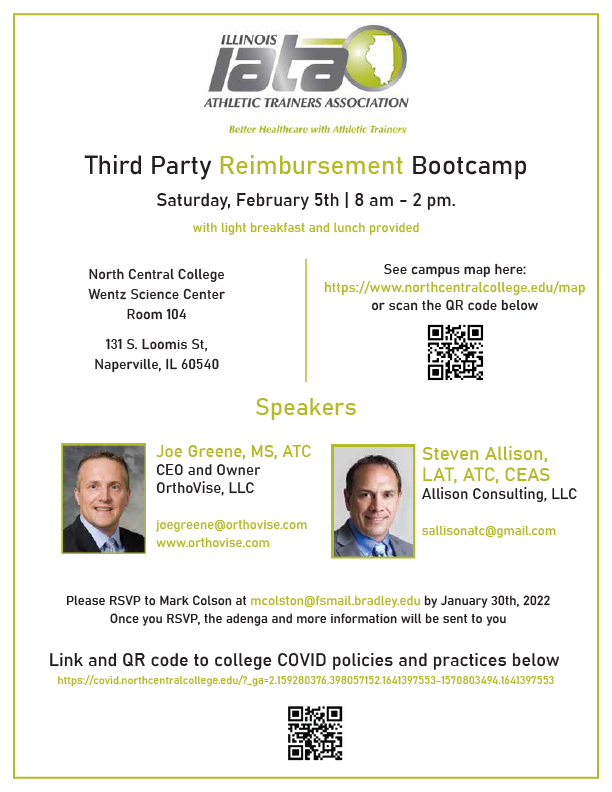 Agenda:
8 - 8:15am Welcome and Introductions
8:15 - 8:45am The NATA Third Party Reimbursement Initiative - Joe Greene
8:45 - 9:15am The State Association and Reimbursement Optimizing your Practice Act, Support Structure and Resources - Joe Greene
9:15 - 9:30am Questions and Discussion
9:30 - 9:45am Break
9:45 - 10:15am Best Practices in Payer Communication and Advocacy : Establishing Athletic Training Reimbursement for Medically Necessary Care- Joe Greene
10:15 - 11:00am Implementing Effective, Compliant & Reimbursable Athletic Training Services - Steve Allison
11:00 - 12:00pm Lunch
12:00 - 12:45pm Optimizing Your Documentation for Reimbursement - Steve Allison
12:45 - 1:15pm NATA Third Party Reimbursement Resources
1:15 PM - 2:00pm Discussion and Planning
Need help finding what you're looking for?