COVID-19 Resources for Athletic Trainers
March 1, 2022:

ATs Care is Providing Health Care Everywhere

Our Illinois ATs Care Team would like to remind you that "Providing Health Care Everywhere" starts with a healthy you.

This pandemic has changed our lives in so many ways and it has also impacted our profession in ways no one could have imagined. How are you? How are you coping with the ongoing stresses of this new reality for so many of us?

The Illinois ATs Care Team is here for you. Our Illinois ATs Care team is comprised of certified ATs specifically trained in critical incident stress management techniques. This pandemic has been and continues to be an ongoing critical incident for us all. We understand not only the stresses of these ever changing times, but also the reality that ATs continue to provide care and coverage along with these new duties and responsibilities every day. Our team is able to provide you and your staff members the support you need to navigate through.

The Illinois ATs Care team can be activated in one of the following ways:
Contact from the NATA national office after an incident has been reported to the national ATs Care website through the

NATA ATs Care Form
Submissions are anonymous and the services we provide are strictly confidential. Critical incidents can cause stress that can lead to Post Traumatic Stress Disorder (PTSD). While it is normal to have an emotional reaction, most of us will need assistance processing these new emotions. Our team has been trained to help you deal with these challenging situations and we provide "Help for the Helpers".
Additional resources:
National Suicide Hotline: 1-800-273-8255 OR dial 988
International Critical Incident Stress Foundation Emergency Hotline: 410-313-2473
Post-Event Self Care Guidelines (pdf)
Mental Health Card (pdf)
Who are your Illinois ATs Care representatives?
---
January 24, 2021: IHSA SMAC Develops Return to Play Guidelines Following a COVID-19 Infection
Across the state, secondary school student-athletes are returning to various levels of sport participation (for the most up-to-date information about what types of sports are allowed in each region of the state, click here). The IHSA Sports Medicine Advisory Committee (SMAC) has developed return-to-play guidelines for student-athletes that are restarting sports after a positive COVID-19 diagnosis. Following a quarantine as instructed by their physician, the SMAC recommends a gradual return to full activity. Secondary school athletic trainers are encouraged to use this return-to-play document as a guide when developing their own school-specific policies regarding student-athletes and COVID-19. To view this resource, click here.
---
January 6, 2021: COVID-19 Vaccine Advocacy Efforts Continue- A Letter to County Health Departments
Dear IATA Members,
I want to provide an update in our efforts in advocating for athletic trainers in Illinois to have access to the COVID-19 vaccine. We are very excited to see that athletic trainers are being counted as healthcare professionals by receiving priority in vaccine distribution. The majority of these communications have come from athletic trainers working in hospital or clinic-based settings. However, we have also received messages from athletic trainers who have been offered the vaccine via their school districts and other professional settings, including county health departments and hospital affiliations. While many athletic trainers have found resources to access the vaccine as healthcare professionals in various ways, we still have a long way to go to ensure all athletic trainers have access if they desire. The distribution efforts in Illinois have been hit and miss and, by our observations, have varied widely from county to county in Illinois. Our recommendation is that if you have not been offered a chance to register for the vaccine to first contact your county's public health department. Many county healthcare departments do have online sign-ups with priority for healthcare providers. If you need help locating your county health department, please click here to find all department websites in Illinois.
Below is a standard letter you can email to your health department if they do not have a sign up available online. Also, we encourage you to research local hospital systems as we have learned that some systems are offering the vaccine to outside healthcare providers (these are usually based on availability of the vaccine, so these options may vary by each hospital systems' policy and availability). We will continue to investigate ways for athletic trainers in Illinois to have access to the vaccine and will update you as we learn more information. For now, we are encouraged by what we are seeing but will continue to advocate and explore options. If you need our assistance in advocacy to your employer or if your county health departments are unaware of athletic trainers' status as healthcare professionals PLEASE let us know; we are here to help you.
Thank you all for your dedication to your patients and your continued care during an extraordinary time.
Jordan Anderson, MS, LAT, ATC
President; Illinois Athletic Trainers Association
Click here to download our COVID-19 Letter to County Health Departments
---
December 22, 2020: IATA & NATA Advocate for Athletic Trainers to be Included in Vaccine Eligibility
We are excited to share the following letter with you, which has been sent to Governor Pritzker's office. Within it, we request that athletic trainers be included along with other healthcare professionals in early vaccinations for COVID-19. We're encouraged by reports of some athletic trainers that have already received the COVID-19 vaccination through their employer. This is an effort to ensure that all athletic trainers, regardless of their employment setting, are recognized as fellow healthcare providers, and offered the opportunity to receive the vaccine.
If you have received the vaccine already, or if you need help advocating for yourself, please contact President Garofalo and/or Governmental Affairs Director Durand. We would love to hear your success stories, and help as we are able.
Click here to view/download the COVID-19 Vaccination Letter from the NATA & IATA Presidents
---
November 19, 2020: IHSA Pauses Winter Sports Following State Mitigation Efforts
Earlier this week, Governor Pritzker announced that Illinois would be returning to Tier 3 COVID-19 mitigation efforts, which includes restrictions on indoor sports and recreation. Click here for specific rules regarding Tier 3 activities. In response to this, the IHSA Board met on November 19, and announced a temporary pause on winter sports and activities. In a press release, the IHSA stated that they would "revisit the status of winter sports at their update discussion on December 2, and again at their regularly scheduled meeting on December 14 if necessary." For more information on this pause, please see the link below:
IHSA PAUSES WINTER SPORTS AND ACTIVITIES
---
November 13, 2020: BOC Publishes New Infection Control and Safety Recommendations
As athletic trainers modify cleanliness and safety policies in response to the COVID-19 pandemic, the BOC has also updated their "Facility Principles" and their "Guiding Principles for AT Policy & Procedure Development" to include CODI-19 considerations. The "Facility Principles" is designed to help athletic training facilities operate at the highest level of safety and compliance. The "Policy and Procedure" document suggests best practices for developing P&P in your own facility. To access these resources please visit BOCATC.org/facility and BOCATC.org/policy.
---
October 28, 2020: IHSA Statement on Winter High School Sports Season
On October 27th, 2020, the Illinois Department of Public Health updated the risk level of basketball from medium risk to high risk (this designation does not pertain to collegiate or professional-level sports). In the same statement, the IDPH reclassified cheerleading and dance from high risk to low risk. The IHSA met on October 28th, and announced several decisions:
- Wrestling will be moved to the summer season, which runs April 19 to June 26, 2021.
- Winter sports will be allowed to be conducted from November 16, 2020 to February 13, 2021, and include Boys Swimming & Diving, Cheerleading, Dance, Boys & Girls Bowling, and Girls Gymnastics.
- Boys and Girls Basketball will also be allowed to conduct their season during the Winter (November 16 to February 13), within an Illinois COVID region or within their conference. It is up to each school district to decide whether or not to hold basketball, however, and all schools that participate must abide by COVID prevention measures developed by the IHSA Sports Medicine Advisory Committee.
For more information, including the full statement by the IHSA, please click here.
---
August 20, 2020: New COVID-19 Resources Available on NATA Website
The committee-created resources section of the NATA COVID-19 webpage features resources created to assist the NATA membership-at-large during the pandemic. The list has continued to grow since it was added in April, with resources covering a variety of settings. You can find additional COVID-19 information on the NATA Now blog, including first-person accounts of how some of your fellow ATs who have been working through the pandemic.
---
August 1, 2020: NATA EDAC and ATs Care Commission to Host Call-in Nights
After hosting a successful call-in event in June, the NATA Ethnic Diversity Advisory Committee and ATs Care Commission will team up once again to host call-in nights throughout August. The NATA EDAC & ATs Care Call-In Nights: Addressing Racial Tension, COVID-19 and Uncertainty in 2020 will be held at 6 p.m. CDT Aug. 3, Aug. 11, Aug. 19 and Aug. 27. These call-in nights will provide ATs the opportunity to express their emotional reactions to racial injustice, COVID-19 and the overall uncertainty many are experiencing in a group setting, under the guidance of ATs Care team members trained in ICISF's Group Intervention. A call-in night for students will also be held at 7 p.m. CDT Aug. 5. NATA is here to support its members while you continue to support your family, friends, colleagues, student athletes and patients. Please use the registration links below to join [This event has passed, therefore registration is no longer available].
Tuesday, August 11 at 6:00pm CST
Wednesday, August 19 at 6:00pm CST
Thursday, August 27 at 6:00pm CST
Click here to check out other NATA Diversity resources, including Diversity Enhancement Grants, diversity statistics, and cultural competency infographics.
---
July 29, 2020: IHSA Announces Modified Schedule for 2020-2021 School Year
Today, the Illinois High School Association (IHSA) published their plan for modifying interscholastic athletic seasons for the 2020-2021 academic year. This plan has been sent to the Illinois Department of Public Health for their approval. Highlights of this plan include:
- Holding shortened versions of Fall, Winter, Spring, and Summer athletic seasons
- Some sports' seasons have been shifted from their traditional time (Fall) to a new time (Spring)
- All sports have been given designations as "Lower", "Medium", and "High" risk for transmission of COVID-19
- Schools who are conducting remote learning for the first semester are not restricted from interscholastic athletic competition. However, "participation will remain a local school and district decision."
Proposed Fall Season: August 10-October 24
Potential Fall sports: Boys & Girls Golf, Girls Tennis, Boys & Girls Cross Country, Girls Swimming & Diving
Proposed Winter Season: November 16- February 13
Potential Winter Sports: Boys & Girls Basketball, Wrestling, Boys Swimming & Diving, Cheerleading, Dance, Boys & Girls Bowling, Girls Gymnastics
Proposed Spring Season: February 15- May 1
Potential Spring Sports: Football, Boys Soccer, Girls Volleyball, Girls Badminton, Boys Gymnastics, Boys & Girls Water Polo
Proposed Summer Season: May 3- June 26
Potential Summer Sports: Baseball, Softball, Boys & Girls Track & Field, Girls Soccer, Boys Volleyball, Boys & Girls Lacrosse, Boys Tennis
Please click here for the full press release, including the exact dates of when each sport may conduct their season during the school year.
---
July 16, 2020: NCAA Releases Updates Return to Sport Guidelines
The NCAA Sports Science Institute released their third set of return-to-sport guidelines, to help member institutions develop policies for safety in sports. The recommendations were developed in conjunction with numerous national health organizations, including the CDC. Highlights of the new guidelines include recommendations on the appropriate use of masks and testing policies for practices and competitions. The NCAA encourages member schools to adhere first to the recommendations put forth by the schools' local public health offices. To read the press release, click here. To access the full guidelines, please click the link below.
New NCAA Return-to-Sport Guidelines
---
July 14, 2020: Further Clarification From the IHSA on Phase 4 Return to Play Guidelines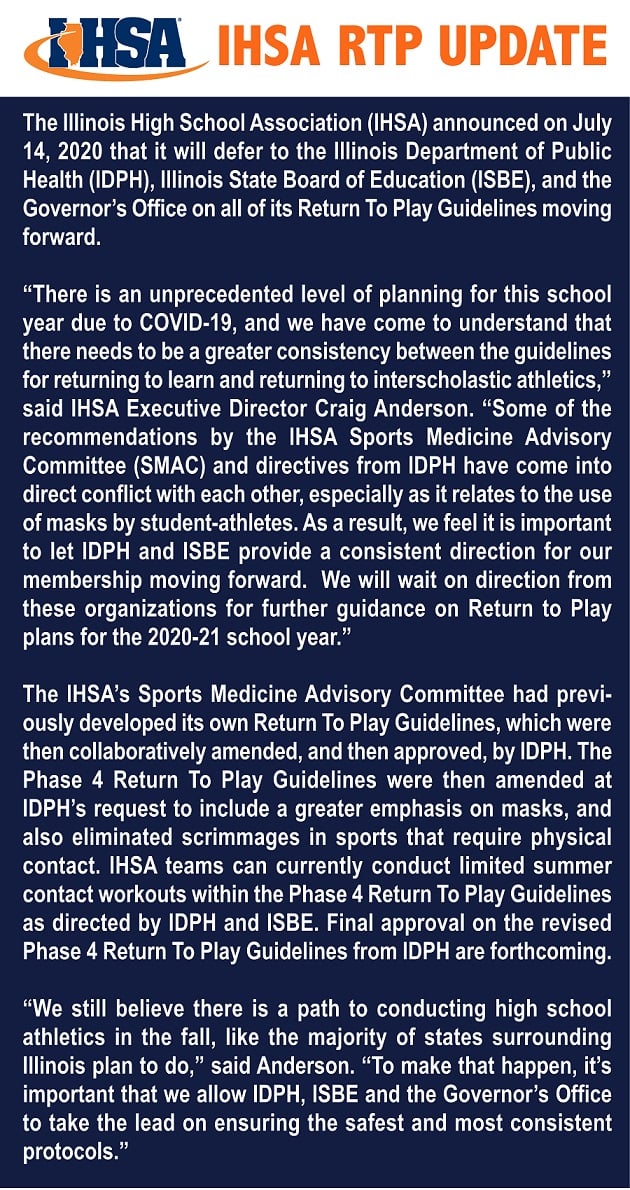 ---
July 3, 2020: IHSA Releases Phase 4 Return to Play Guidelines
The Illinois High School Association (IHSA) has released their latest update to the COVID-19 Return to Play guidelines. Previously known as the Stage 2 guidelines, they will be referred to as the Phase 4 guidelines, to align with the current phase of the State of Illinois' Restore Illinois plan.
These guidelines may be implemented by schools beginning on July 5th. According to the release by the IHSA, teams are permitted to "gather in groups of 50 coaches and students or less to conduct practices and contests." Teams who participate under these guidelines must be in a Health Region that is in Phase 4 (or better) of the Governor's Restore Illinois plan, and activities must be approved by the local school district. For more information, you may read the press release here: IHSA COVID-19 Update.
If you have any questions about these guidelines, please contact Secondary Schools Committee co- Chair Aaron Kremmel or Chris Murphy. The IATA continues to work closely with the IHSA's Sports Medicine Advisory Committee to develop these and future guidelines.
---
June 5, 2020: Return to Play Guidelines from the IHSA SMAC
This afternoon, the Illinois High School Association released their guidelines for safe return-to-play amidst the COVID-19 pandemic. These guidelines were developed by the Sports Medicine Advisory Committee, with the input of many athletic trainers across the state. They've been approved by the Illinois Department of Public Health, and fall within the current stage of Governor Pritzker's Restore Illinois plan. According to the IHSA, the guidelines focus on acclimatization and general physical fitness, not sport-specific skill development. Please click here to read the full statement made by the IHSA today. It is also important to note that an official return to activity will be at the discretion of schools, school districts, and local health departments.
See the Full Stage 1 Return to Play Guidelines Here
---
May 31, 2020: Return to Sport Guidelines from the NCAA & NATA SSATC
On May 29, 2020, the NCAA published several resources for collegiate athletic trainers, regarding the return to sports. The Action Plan Considerations modify the original Core Principles of Resocialization of College Sport, which were developed to help guide colleges and universities in developing their own policies. For more information about these guidelines, please visit ncaa.org/covid-19.
Furthermore, the NATA's Secondary Schools Committee has published a Remote Work Checklist for secondary school athletic trainers. Regardless of whether secondary school ATs can or cannot access their athletic training facilities, there are some things that they can be working toward currently. Please click on the Remote Work Checklist link above to review this resource.
Specific to Illinois, we anticipate being able to share return-to-sport guidelines from the Illinois High School Association with our athletic trainers in the next few days. The Sports Medicine Advisory Committee has been working diligently on these guidelines, and they are in the process of being approved by the State of Illinois.
---
May 8, 2020: Legislative Advocacy During a National Health Crisis
First and foremost, we recognize that the COVID-19 pandemic has affected all of us differently, from a slight change in our daily routines, to a complete upheaval of everything we've known as "normal." Your individual physical, mental, and emotional health is paramount during this time. If you are able to, though, we encourage you to consider reaching out to your legislators to begin a discussion about the value of athletic trainers, and highlight the role ATs play in meeting demands during a national health crisis. The IATA would like to support your efforts by sharing photos and stories of ATs on the "front lines" of the pandemic. Our goal is to engage with local and statewide lawmakers, and to illustrate how versatile the AT skill set truly is. If you have a story or photo to share, please find us on our social media accounts (Illinois Athletic Trainers Association on Facebook, @IlAthTrainers on Instagram & Twitter), or send your information to Communications Director Andrea Kovalsky.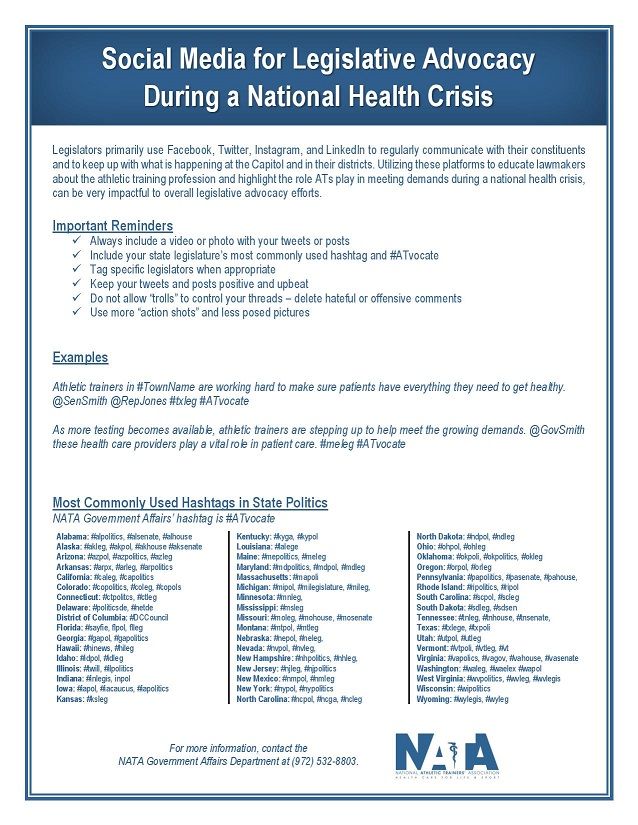 ---
April 19, 2020: Staying Active During the Coronavirus Pandemic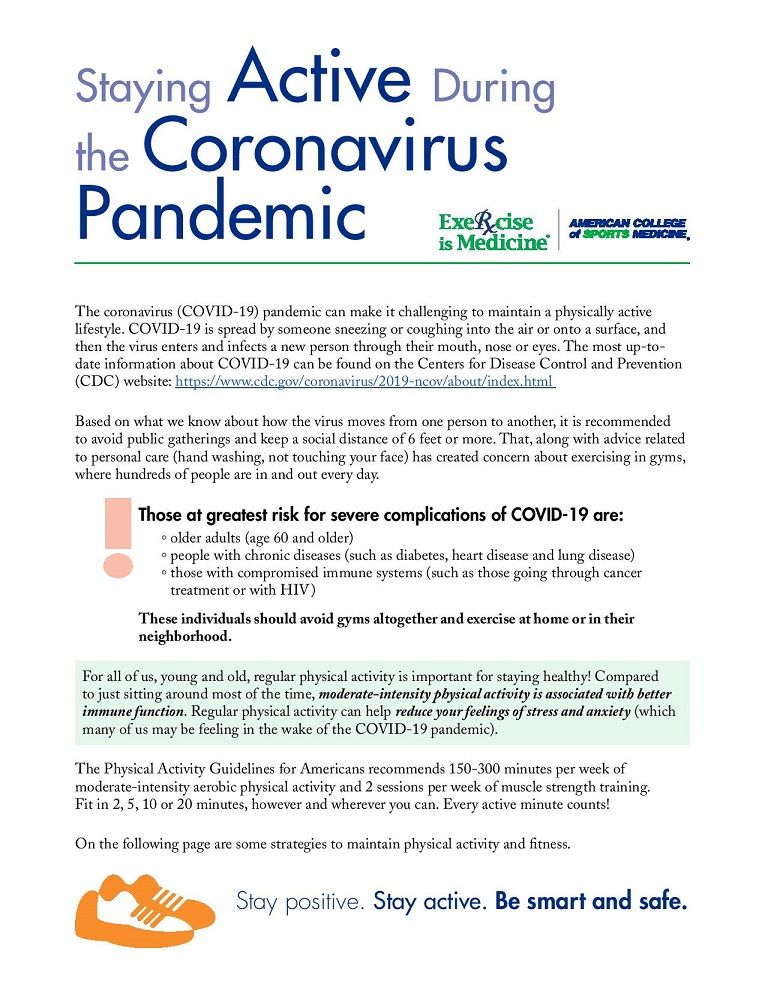 ---
March 24, 2020: ATs Care, IDFPR, and BOC Resources
We recognize that currently, many of our lives have been significantly changed by the COVID-19 pandemic. Cancellations of meetings, working from home, and social isolation have affected our daily routines, and it is normal to feel a lack of control over the current circumstances.
ATs Care wants to ensure that as we are taking care of our families and patients, we continue to take care of ourselves. Resources for the COVID-19 response, including resources for self-care and mental health wellness can be found on NATA's COVID-19 resource page. ATs Care is always available to be a supportive network as you need us. To reach our team quickly, please email ATsCare@nata.org.
Please take a minute to look at the infographic from ATs Care, titled Self Care Following a Critical Incident. There you will find suggestions of what to look for when identifying an AT in need, among other self-help suggestions.
IDFPR Accommodates COVID-19 for Licensure Renewal Deadline
On March 18th, the IDFPR released a statement outlining the extension of the licensure renewal deadline for many professionals across the state. Licenses that expire between March 1st and July 31st of this year have a new expiration date of September 30th. This include the athletic training license. Furthermore, the continuing education requirement deadline will also be extended to September 30th. For more information, please read the IDFPR's press release here.
Please click here for a list of all of the professions with renewal deadlines extended to September 30th.
Unemployment FAQs
Unemployment benefits may be available to some individuals whose unemployment is attributable to COVID-19. Illinois recently adopted emergency rules to try to make the unemployment insurance system as responsive to the current situation as possible. Please use the following resources if you are considering unemployment insurance in Illinois: State of Illinois Unemployment FAQs.
BOC Statement
All certified athletic trainers should have received a statement from the BOC regarding changes they've made in light of the current circumstances. If you missed this information, a summary is available below.
• The BOC office remains available to handle questions and receive documents related to AT candidates and/or continuing education. Please contact BOC@bocatc.org or call (877) 262- 3926 for help.
• The March/April exam has been canceled. Once testing is available again, the BOC will communicate scheduling options with candidates and program directors via email.
• The BOC is communicating with Approved Providers regarding cancellation of events.
The BOC is working with ATs knowing that there will be lapses in ECC certification and issues finding classes due to cancellations.
---
March 1, 2020: President's Message
Members,
In these unprecedented times your IATA BOD wants you to know that we are here for you. This communication is to provide you with resources. I had a meeting with many other state presidents, other leaders and NATA President Lindley today concerning the COVID-19 response and what we can do to provide support to you. We understand and are also living the reality of this pandemic.
For those of you in the traditional setting or other settings where your supplies are not being used, with the support of your administration, we would encourage you to donate these supplies to a local hospital or other healthcare facility that is in need. Additional ways that you can help are by donating blood to help those who have other medical issues requiring the need for blood. A couple of resources for this include Vitalant or the Red Cross. We would like to be able to show thanks and identify our members who have helped during this crisis. If you have worked on the front lines, donated supplies, or in some other way helped, please indicate so in this form.
Below are some resources concerning potential employment working on the front lines. These are resources for working in hospitals and and other front line positions to support the COVID-19 pandemic. If you or your employer are interested in addressing the staffing shortages in hospitals and other facilities, the IATA BOD is here to help. As your IATA President, I am willing to send a letter of support and have conversations with decision makers at hospitals and other healthcare facilities on your behalf. This letter will be about how Athletic Trainers can help on the front lines by addressing medical staffing shortages with our education and skill set. Please fill out this form to get this process started if you are interested in working on the front lines. Please have contact information for the decision maker ready when you fill out this form. I want to remind ATs across the state that we have many resources available to us, not just the ones listed in this email.
As of today, the Capitol Hill Day in Washington DC this May and the NATA Convention in Atlanta in June are still on as scheduled. The NATA will continue to work with appropriate resources to update these events as further information is available.
Your IATA BOD wishes you, your family, and friends continued health and safety.
Best Regards,
Holly Odean-Carpenter, MS,ATC
President, Illinois Athletic Trainers Association